Many of us drive cars, some for necessity, some for luxury and we know only a few things related to the vehicle which are only required.
But some are passionate about cars and are extreme experts in their fields. Likewise, in the social media world, there are many people who review about cars worldwide, so we came up with yet another social media celebrity and her passion.
Here we are talking about
Alexandra Mary Hirschi (Alex)
a.k.a. "Supercar Blondie".
Image source: itp.live
Alex, an Australian native living in the city of Dubai UAE, is a vlogger and a social media star who hunts for world's coolest and most luxurious cars, as she claims to be. She is now a famous face and a renowned name in the field of automobile world.
Let's know a little bit more about her background.
Image Source:
gaadiwaadi
Alex was born in Brisbane Australia
on September 21, 1985 and studied Journalism & Business at Queensland University of Technology. Later she moved to Dubai in 2008 where s
he worked as a newsreader and hosted her own prime time radio program

Dubai Eye 103.8

up until April 2017. During that time she interviewed many celebrities and got to host several car events too.
Image Source: hotcars
According to her, she was working with
Bentley
back then
to cover their events to drive the cars and make reports. O
ne day they called and asked her to have a Bentley for test drive that weekend. It was like her dream to drive and own an expensive car one day.
So she decided why not to check the other cars too and be in the car world. She then started to check the cool features of
other expensive cars like Ferrari, McLaren etc and post them on social media in return.
This is how things went on from there and her channel "Supercar Blondie" came into life.
Image Source: hotcars
She was always fascinated by cars and had a dream of owning an expensive car one day. She made her dream come true by bringing
Lamboghini home. She owns Huracan LP610 named as Lucy and has a hashtag #lucythelambo.
Lucy has also gone through a new color transformation last year in 2019. Check it out...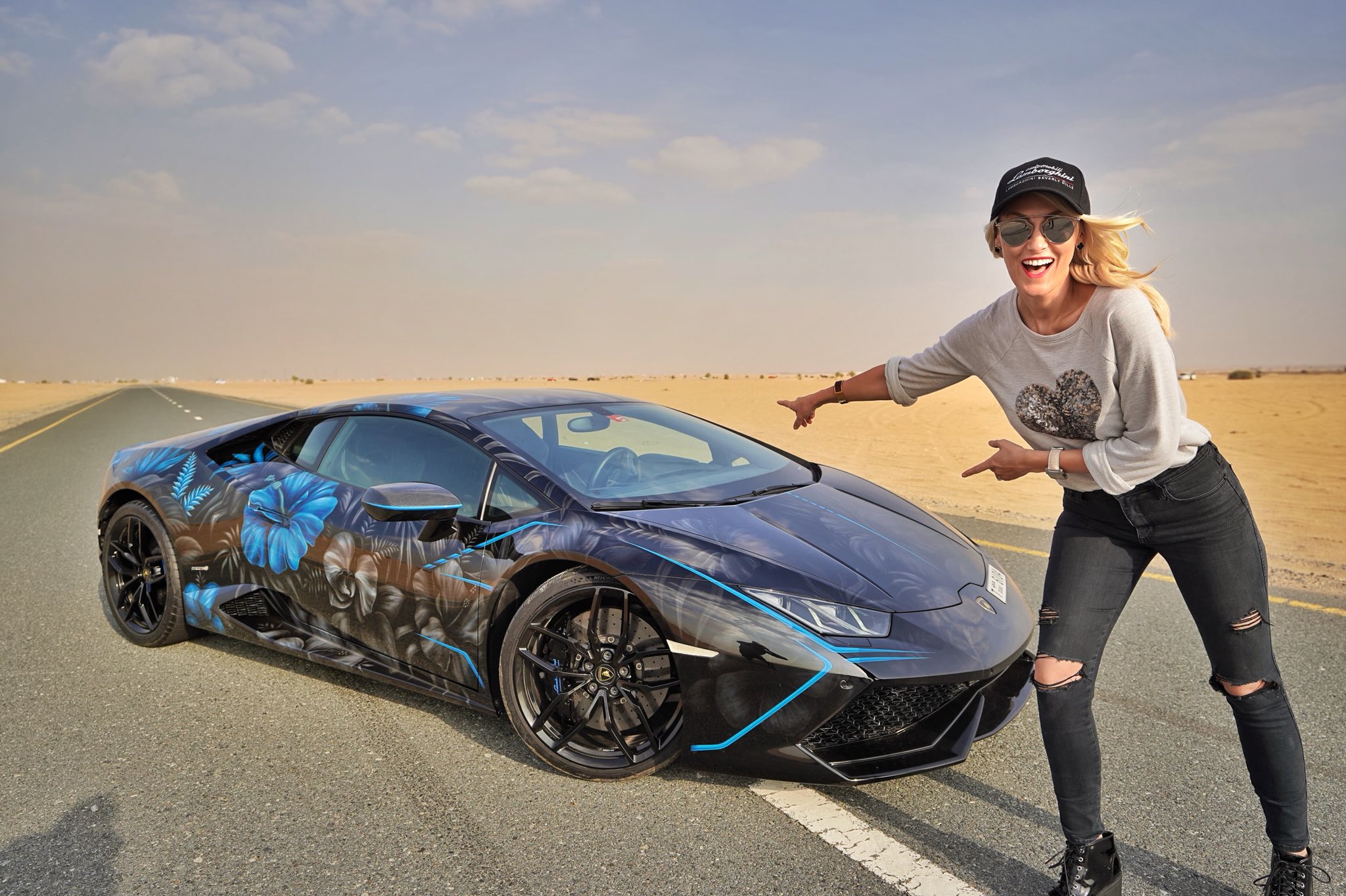 Her stardom till date
Alex creates car related content on different social media platforms.
She joined Youtube in 2007 and uploaded her first video on Nov 22, 2015. She
always loved cars and made it as an all time passion and profession. Check her fan following below:
Youtube Subscribers: 3.43M
Instagram followers : 6M
Facebook followers: 8.4M
Twitter followers : 42K
She was awarded as "Influencer of the year" by Esquire East,
"Vlogger of the year" by Cosmopolitan Magazine ME
and "Lifestyle Influencer of the year" from the Monaco Influencer Awards.
Her First Visit to India in 2019
She visited Mumbai and Bangalore to join a super-car rally
in May 2019.
Hosted Meet and greet event in Mumbai with Mercedes Benz India and Michelin.
"I wanted to explore the automobile culture in the country and interact with fellow petrol-heads here." She said.
Here she joined the rally and met her fans and followers.
Image Source:
https://www.facebook.com/supercarblondie
Her husband - Her Manager
Supercar Blondie married to Nik Hirschi who is also her managing partner. He helps her in editing videos and usually likes to keep himself behind the cameras but sometimes he pops in and marks his presence on her videos.
Image Source :
hotcars
Some of the favorite moments of her career were getting access to the pits during the Formula One Grand Prix in Bahrain and appearing on the BBC's automobile show "Top Gear". "Appearing on Top Gear is a dream come true," she said. As
per the sources, she has estimated worth of 1 Million USD as of now and further w
e'll keep on tracking more about her and keep you posted.