How amazing it is to know that people around us are so talented to solve any problem using a flexible approach with minimum resources, that's what we call a "Jugaad" in our style. They can either make the best out of waste or apply some Desi Jugaads leaving others scratching their heads.
It's common to see really odd things now a days, so let's get ready for some strange experience. A few examples to show weird things that are happening all around us...
1. Driver Seat Replacement
A chair replaced by driver seat is beyond anyone's imagination. This poor guy did not think about the safety.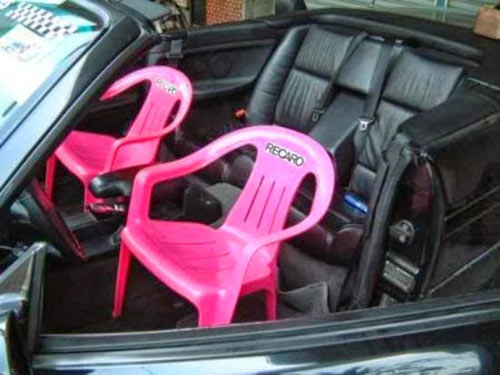 Image Source :
tyremarket
2. Back viper replacement
This seems to be the cheapest way to replace back wiper to clean rear glass with broom stick .
Image Source :
tyremarket
3. Door Locking System
Someone is very protective about his car - his mind thinks in another way to introduce Door Locking system in his car by installing door latch which is equipped with Lock & Key .

4. Accelerator/ Brake Pedal Lock
When I saw this picture first thing that came in my mind that someone has used this idea from cycle lock so that you cannot move your vehicle. He locked the accelerator pedal WOW one level up- This called desi jugaad which need extreme intelligence like this man.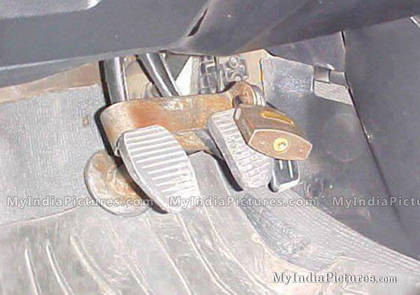 Image Source :
cardekho
5. Unique Outer Rear View Mirror
This is ultimate jugaad, this person has used a regular mirror to see the rear objects and doesn't know the special mirrors which are used for the Car ORVM -
Objects in the Mirror are closer than they appear.
Image Source :
cardekho
6. Air Bag
This person doesn't have basic knowledge. The Airbag which is actually the most important safety system that he has replaced with empty sack and just wrote Airbag. This is the most critical safety component, it should not be either removed or replaced with any such jugaad. This Airbag won't help and save your live if any crash happens.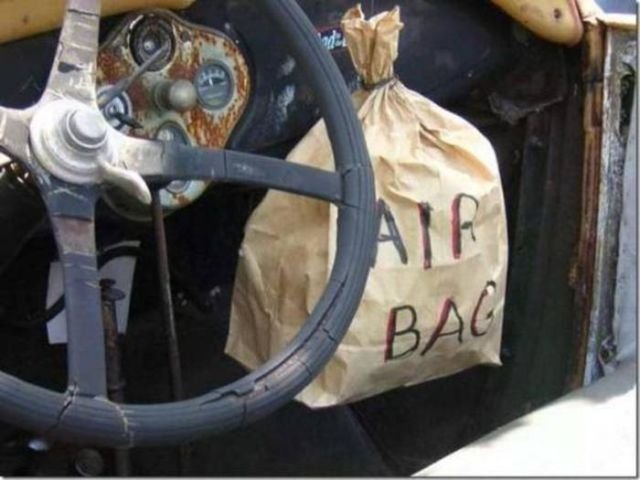 Image Source :
desinema
7. Wooden Plank-Door
This guy has used the plank just to protect him while driving the Car- This can be cheapest way but not effective way and unsafe also.
Image Source :
newsdog
8. Solar Panel Roof Car
Now this can be called as innovative idea to use the solar energy to drive the car. This is an effective jugaad to use natural resources which helps to save the fuel and protect the environment.
Image Source :
easyjugaad
9. Bike or Car?
This is an engineer mind which has thought to modify the vehicle which has both features for Car & Bike. He has used the avenger bike and joint with rear compartment of the car. This can be called as tri-wheeler. I am very curious to know how he is maintaining the loads and suspension while designing this vehicle .
Image Source :
quoracdn
10. Silencer Hanger
Its beyond the imagination to hold the silencer. This person has used the clothe's hanger to avoid it in contact with road. This can be called as innovative idea but i would suggest instead of hanger we should have mechanical design to hold it in better way.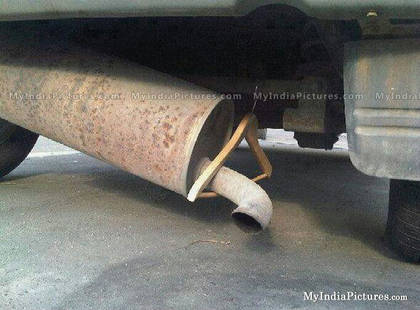 Image Source :
cardekho
11. Manual Hand Wiper
This person has used his brain to extreme level. He tied ropes to the wiper to operate it manually which actually wiper motors do itself. This can be effective jugaad but it will distract driver concentration while driving car alone.