Now a days, there is massive adaption in the
technologies
for the
capacitive
touch input systems that are being used in
automotive for the ease of drivers and passenger comfort. All cars manufacturers providing a touch based feature either it can be music player buttons, steering wheel, door opening or roof sensor.
Image Source: farm8.staticflickr.com

The touch sensors are usually designed for 2D and now a days it is grown with addition of the touch pads which are more useful for the features like detection, gesture control and mainly introduced to reduce the driver distraction & have simple interaction between the car and driver.
Image Source: orientdisplay

As shown in the above image -The sensors are integrated into the vehicle such as Mirrors based on buttons & proximity, over head panel where the sunroof control, Door handles, Door Panels, Infotainment based control for operating functions for buttons, sliders with touch technology.
Image Source:
quad-ind.com
The touch based controller have the following advantages:
1. Low power mode
2. Weather proof operation
3. Glove Touch detection
4. Compact touch surface
5. Smallest size is available with 7 mm
6. Multi-touch (10 point) operation
7. Light touch activation with smooth gestures
8. High quality construction – 2 layer glass
9. High light
transmission
and image clarity
10. Durability: scratch, abrasion and vandal resistant
Image Source:
assets.newatlas
Let's learn how this touch technology actually works. There is capacitive touch screen which has two perpendicular layers have conductive coatings. When our finger is placed on the screen, it tends to change the mutual capacitance between the Horizontal and vertical tracks.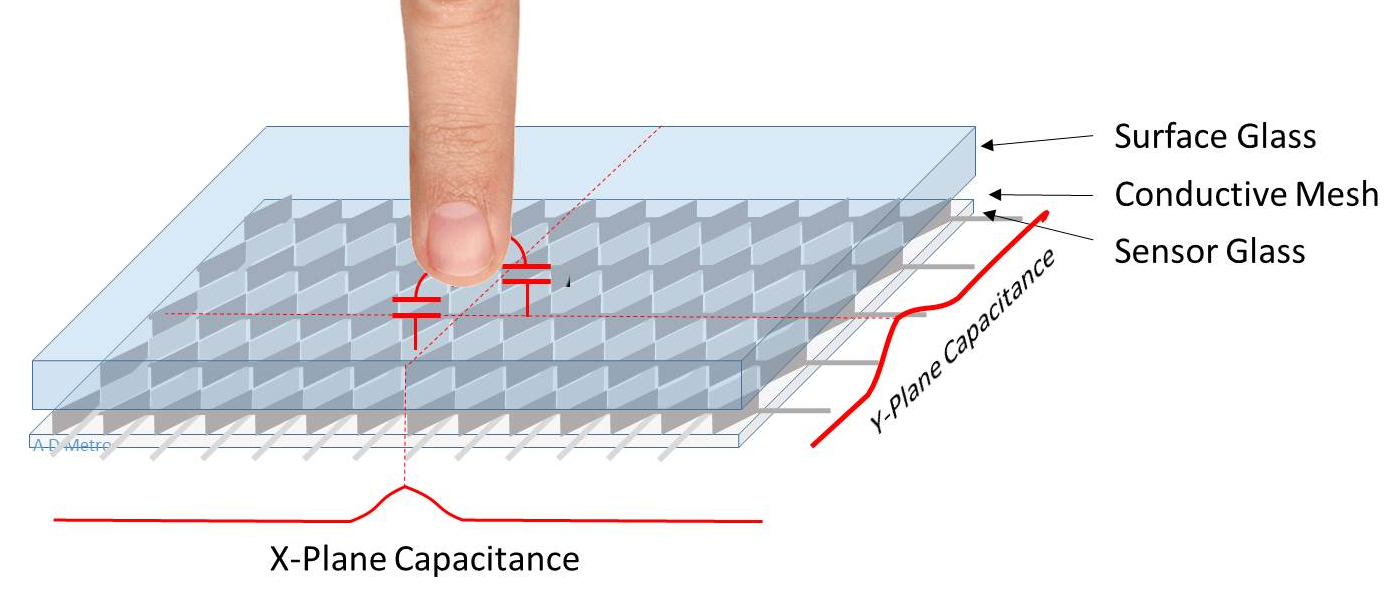 Image Source:
admetro
The controller is able to scan each
cell
with high frequency signal and sense the changes on the mutual capacitance between the adjacent cells which is known as touch locations.
Image Source :
noritake-elec
The same technology and principle is also used in our Mobile Touch Screen.
Image Source :
base.imgix.net
The advancement in the
Automotive
field where the more efforts are going on is gesture control with original decorating
printing
and force feedback technology.
Image Source :
tech.alpsalpine
The more research and inventions are going to develop the advanced operating enabling touch and gesture
control
through to proximity sensing by refined technology innovations.